Social media automation is your secret weapon in the digital battlefield. For small businesses, maintaining a steady and engaging social media presence can sometimes feel like running on a never-ending treadmill. The constant pressure to create fresh content, respond to comments, analyze data, and keep up with the latest trends can be overwhelming. What if you could streamline these tasks, improve your efficiency, and free up time for other crucial aspects of your business without compromising on your social media presence? That's precisely where social media automation apps come into the picture.
In passion-driven small businesses like yours, every hour of the day counts. It makes perfect business sense to delegate repetitive and time-consuming tasks to automation software, so your time and energy can be invested in making strategic decisions, interacting with your community, and crafting original and relevant content that your audience craves.
Automating your company's social media doesn't mean your online presence will become robotic or impersonal – quite the contrary. With careful planning and the right tools, automation helps maintain consistency in your posting schedule, leaving more time for you to personally engage with your audience.
If you're new to the world of social media automation, let's illustrate what it can mean for your business with a quick snapshot:
Schedule Posts Ahead of Time: Create and schedule your content in advance, with smarter posting times based on when your audience is more likely to engage.
Manage Multiple Platforms: Post, respond, and monitor conversations across different platforms, all from one dashboard.
Automate Repetitive Replies: Set up auto-responses for commonly asked questions, comments, or mentions.
Keep an Eye on Competition: Track your competitors' social media activities, performance, and trends.
Analyze & Report: Generate analytical reports to understand your social media performance and data trends.
But with a myriad of social media automation apps out there, finding the right tool to supercharge your social strategy can be mind-boggling. Worry not. We at Automate My Social are here to guide you through the top-rated apps which cater to different needs, capabilities, and budgets. Stay tuned to navigate the realm of social media automation confidently and effectively.
Understanding the Importance of Social Media Automation
Welcome to the exciting world of social media automation. If you're feeling overwhelmed by the constant need to post, reply, monitor, and analyze your company's social media interactions, then you've come to the right place. We're here to show you how automation can revolutionize your approach to social media, saving you valuable time and resources while enhancing your online presence.
Saving Time and Improving Efficiency
As a small business owner, time is your most valuable asset. According to Statusbrew, "about half of the daily activities carried out by social media marketers could be automated or augmented by social media automation tools." That's a significant amount of time you could be spending on other essential aspects of your business.
Social media automation tools, like our own solution here at Automate My Social, can handle repetitive tasks such as scheduling posts, responding to common inquiries, and generating analytical reports. These tasks would otherwise consume a substantial portion of your day.
Streamlining Social Media Management Tasks
Social media automation isn't just about saving time—it's also about working smarter. With the right automation tools, you can streamline your social media management tasks, ensuring that your brand stays relevant and engaging in the ever-evolving digital landscape.
For instance, tools like Buffer and Hootsuite allow you to schedule and publish posts across all your social media accounts. This way, you maintain a consistent online presence, even during your busiest periods.
Enhancing Customer Care and Scaling Strategic Decisions
Automation doesn't mean compromising on quality. In fact, it can enhance your customer care by ensuring timely responses to inquiries and comments. Tools such as Sendible are designed to help you schedule updates, reply to followers, and create reports.
Moreover, social media automation can help you make strategic decisions. With robust analytics and reporting features, you can gain insights into your audience's behavior and preferences, helping you refine your marketing strategy.
In conclusion, understanding the importance of social media automation is the first step towards supercharging your social strategy. With the right tools, you can save time, streamline tasks, enhance customer care, and make data-driven decisions.
Stay tuned as we dive deeper into the world of social media automation and explore some of the top-rated apps that can help you take your social media game to the next level.
Top-Rated Social Media Automation Apps
Buckle up as we explore the best tools in the market that can help you up your social media game. These apps are designed to help you automate processes, save time, and make data-driven decisions that can move your business forward.
SocialBee: AI-Driven Social Media Strategy
First on our list is SocialBee. This automation tool stands out with its AI Copilot feature, capable of generating an entire social strategy from scratch. By understanding your audience and your brand, it offers post categories, the best networks for your audience, and post ideas. SocialBee supports various platforms including Instagram, Facebook, Twitter, LinkedIn, Pinterest, and Google My Business.
Sendible: All-in-One Social Media Management
Sendible is a comprehensive tool that offers a unified dashboard for managing and automating your social media presence. It allows you to schedule posts, manage comments, and interactions, and provides detailed analytics to help you examine your performance.
Missinglettr: Advanced Drip Campaigns and AI-Generated Posts
Missinglettr is unique for its ability to convert your blog posts into a 12-month social media campaign automatically. It's an excellent tool for bloggers and content creators looking to maximize the reach of their written content.
Buffer: Simplified Content Management Across Platforms
For businesses on a budget, Buffer is an excellent choice. It offers simplified content management across various platforms and comes with features such as post-scheduling, profile management, and basic analytics.
Hootsuite: Comprehensive Social Media Management for Large Brands
Hootsuite is the go-to tool for many large brands. It offers robust features for social listening, engagement, publishing, and analytics. Hootsuite allows you to manage multiple accounts and brands from a singular dashboard, making it a favorite among large businesses.
Sprout Social: Comprehensive Tool for Social Management, Customer Care, and Analytics
Sprout Social is a comprehensive tool ideal for businesses of all sizes. It offers an impressive blend of features for social listening, engagement, publishing, and analytics. Its clean, intuitive user interface makes it an easy-to-use tool for all your social media needs.
Agorapulse: Social Inbox, Publishing, and Listening Features
Agorapulse is a powerful tool that offers features like social inbox, publishing, and listening. It helps businesses manage their social media conversations and measure their performance.
ContentStudio: AI-Based Content Marketing Automation
ContentStudio is another AI-based tool that offers automation for content marketing. It allows you to discover, compose, and share content across your social media channels.
Brand24: Sentiment Analysis and Brand Monitoring
Brand24 offers sentiment analysis and brand monitoring, making it a good choice for businesses looking to understand their audience better and track their brand's online reputation.
Oktopost: B2B Social Media Automation with Business Intelligence
Oktopost is a unique tool designed especially for B2B companies. It offers business intelligence and automation features to help companies track, manage, and optimize their social media operations.
CoSchedule: Team and Social Account Management
CoSchedule is a team management tool that also offers robust social media management features. It allows you to set up approval workflows, assign tasks, and comment on posts, making it easier for teams to work together seamlessly on their social media strategies.
Tailwind: Specialized Marketing on Social Media Channels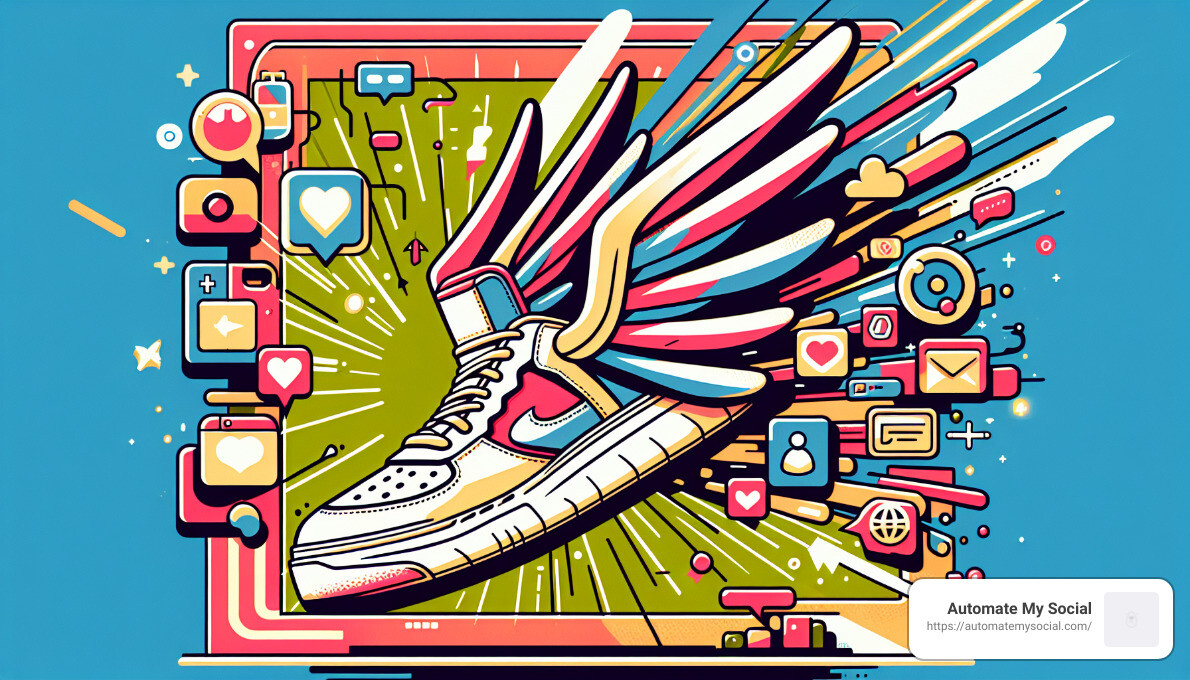 Tailwind specializes in marketing on Pinterest and Instagram. It offers scheduling, analytics, and other features that make managing your Pinterest and Instagram accounts easier and more effective.
PromoRepublic: Multi-Account Management Across Different Business Locations
Last but not least is PromoRepublic, a tool that allows businesses with multiple locations to manage their social media accounts effectively. It offers features like content creation, scheduling, and collaboration.
Remember, the best social media automation app for your business depends on your specific needs and goals. Evaluate each tool's features, pricing, and supported platforms to choose the one that suits your business best. Automating your social media tasks can save you time and resources, allowing you to focus more on building your brand and engaging with your audience.
How to Choose the Right Social Media Automation App for Your Business
Choosing the right social media automation app can feel like navigating through a maze. With so many options, how do you know which one is the right fit for your business? To help you streamline this process, we've created a step-by-step guide to help you make an informed decision.
Identifying Your Needs
Start by identifying your needs. What are the main social media tasks that you want to automate? This could include scheduling posts, monitoring mentions, moderating comments, or tracking analytics. It's crucial to pinpoint your specific needs, as different automation apps offer varying features. Once you've clearly defined your needs, you can narrow down your choices and find apps that align with your goals.
Evaluating the Features
Once you've identified your needs, it's time to evaluate the features of each app. A tool like SocialBee may be the ideal choice if you're looking for a tool to help with AI-driven social media strategy. In contrast, if you need advanced drip campaigns and AI-generated posts, Missinglettr might be a better fit. Look for features that will help you automate your tasks effectively. These may include bulk scheduling, content creation and curation tools, analytics and reporting, automated comment management, and collaboration features.
Checking the User Interface and Compatibility
The user interface of the social media automation app is another crucial factor to consider. You'll want a tool that's easy to navigate and provides a clear and intuitive workflow. If the tool is too complicated to use, it may end up taking more time than it saves. Additionally, compatibility with the social media platforms you use is essential. If you have a multi-channel social media presence, look for a tool that supports all your channels. Also, check if the tool integrates with other apps in your current toolkit.
Considering Pricing and Reading Reviews and Ratings
Pricing is another aspect to consider. You'll want to find a tool that fits your budget and provides good value for your money. Some tools offer most automation features at much more affordable prices than their expensive counterparts. Reading reviews and ratings from other users can provide insights into the tool's strengths and weaknesses. This can help you make an informed decision and choose a tool that meets your needs.
Choosing the right social media automation app is not a one-size-fits-all process. It requires careful consideration of your specific needs and the features offered by different tools. By following this guide, you can find the tool that will supercharge your social strategy and help you manage your social media presence more effectively.
At Automate My Social, we understand the challenges of social media management. That's why we offer customizable packages and integration with popular social media platforms to make social media automation accessible and efficient for businesses of all sizes. Don't navigate the maze of social media automation alone. Let us guide you through the process.
The Role of Automate My Social in Social Media Automation
Navigating the ever-evolving landscape of social media can be daunting, especially when you're juggling multiple tasks in running your business. That's where we, at Automate My Social, step in. We offer user-friendly social media tools designed for those always on the go, allowing you to focus on other pressing matters while we take care of your social media strategy.
Automating 90% of Social Media Tasks
With Automate My Social, you can automate up to 90% of your social media tasks. This includes scheduling and publishing posts, collecting and analyzing data, automating basic customer service, monitoring social conversations, and managing your social ads. Our platform's patent-pending technology gives you the ability to automatically create and distribute your social posts in seconds. This means you have more time to focus on the areas of your business that need you most.
Offering Customizable Packages
We understand that every business has unique needs. That's why we offer customizable packages to cater to your specific social media requirements. Whether you're a small business looking to automate the majority of your social media tasks or an agency managing multiple client accounts, there's a package that fits your needs. Our monthly subscription starts at $250, with a 20% discount for annual subscriptions. If you're an agency or a company with multiple locations, you can contact us for custom pricing.
Integrating with Popular Social Media Platforms
We aim to make your social media management as seamless as possible. Automate My Social integrates effortlessly with popular social media platforms like Facebook, Twitter, Pinterest, LinkedIn, Instagram, and Google. This means you can manage all your social media accounts from a single dashboard, saving you the hassle of logging in and out of different platforms.
In summary, Automate My Social is more than just a social media automation app. It is your partner in streamlining your social media management, saving you time and money while delivering powerful and consistent results. With our automation tools, you can supercharge your social strategy and focus on what really matters – growing your business.
Conclusion: Supercharging Your Social Strategy with Automation Apps
The digital age has brought about an incredible array of social media platforms, each with its unique features and audience. For small business owners, managing a social media presence across these multiple platforms can be a daunting task. Not only is it time-consuming, but it also requires strategic planning, consistent execution, and constant monitoring. Thankfully, social media automation apps have come to the rescue.
These tools, like Statusbrew, Zapier, Sprout Social, and many others, offer a variety of features to automate your social media tasks. Whether it's scheduling posts, responding to customers, or analyzing performance data, these tools can handle the heavy lifting. But remember, the ultimate goal of automation isn't to replace human interaction. It's about leveraging technology to enhance your human touch and create genuine connections.
At Automate My Social, we understand the importance of this balance. Our social media automation tools are designed to handle the grunt work, freeing up your time to focus on building genuine relationships with your audience. With features like post scheduling, customer service automation, and even data collection and analysis, we are more than just a tool – we are your partner in navigating the competitive social media landscape.
However, the true power of automation lies in its ability to supercharge your social strategy. By automating repetitive tasks, you can save time and focus on the critical aspects of your business that truly affect outcomes. Moreover, the data collected through automation can provide valuable insights to refine your marketing strategy and better engage with your audience.
So, if you're looking to save time, money, and get better results, there is no better time than NOW to explore social media automation apps. Remember, the future of social media undoubtedly lies in automation. And with Automate My Social, you have a robust and user-friendly platform that can revolutionize your social media strategy.
As we conclude, let's remember that the key to successful social media automation is finding the right balance. Use smart automation tools to handle the grunt work, while still maintaining a genuine and engaging online presence. After all, it's not about replacing human interaction, but enhancing it, making your social media strategy more efficient, and effective.
With the right social media automation app, you can truly supercharge your social strategy, taking your brand, service, and social media image to the next level. So why wait? Start your automation journey with Automate My Social today and see the difference it can make to your business.