Small businesses deal with various problems every day. As a small business owner, you must be razor-sharp in utilizing trends and technologies to keep up with the competition – even though your resources are limited and budgets minuscule compared to more prominent brands. Crafting a well-thought-out marketing strategy is essential for any business attempting to thrive but particularly critical for smaller companies needing to make the most of every cent invested.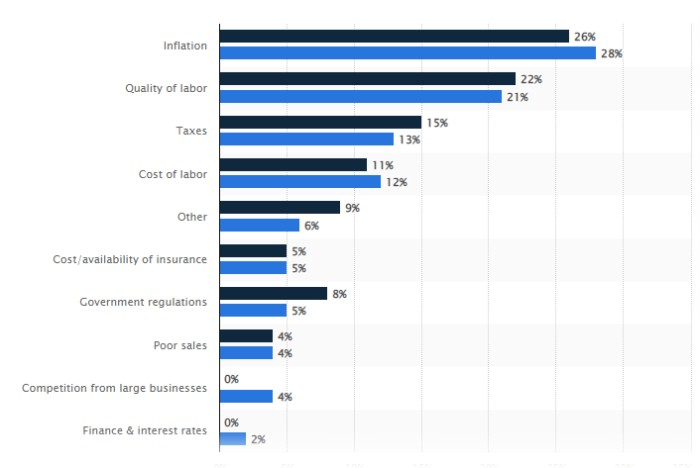 Image Courtesy: Statista.com
Crafting a successful marketing strategy is critical for all small businesses. Numerous steps need to be taken to guarantee success, including pinpointing your target audience, establishing online resources, and deciding on external marketing channels.
This detailed guide will give you the essential steps to successfully market your small business. We will cover essential topics such as marketing, challenges small businesses face, developing a small business marketing strategy, and examples of marketing channels.
What Is Small Business Marketing?
As a small business, it's essential to effectively market and promote your products or services in order to reach customers and the target market. To do this, you must create an engaging customer outreach plan which incorporates multiple strategies such as advertisements, public relations campaigns, promotional activities, branding efforts, and more. Through these marketing efforts, you can generate leads that will hopefully convert into sales for your business.
For small business owners trying to navigate their way through today's competitive market, creativity is key. With fewer resources and a tighter budget than large businesses, one must think outside the box to reach their desired target audience effectively and efficiently. Making use of clever marketing strategies can offer an ideal solution for any size of business.
Challenges of Marketing Small Businesses
Small businesses face different challenges when it comes to marketing. The following are some of the most common problems:
Lack of Resources
Small businesses have limited resources, such as a smaller budget and fewer personnel. This can make devising a bright marketing strategy difficult. This can make it challenging to create an effective marketing strategy. Small businesses mainly suffer from a lack of expertise as everyone has to be a jack of all trades and a master of none.
Smaller Budgets
For small businesses, marketing campaigns are often restricted to a limited budget compared to larger companies. As such, they must select the most cost-effective channels that will generate the highest returns on their investments – particularly when it comes to digital marketing, which can be pricey and require an extensive investment initially.
Competition from Larger Brands
It can be difficult for small businesses to outshine the bigger brands with their limited resources, smaller customer base, and lesser name recognition. This makes it more of a challenge to attract customers away from those larger companies and get them interested in what they have to offer. However, by using unique tactics such as specialized services or marketing strategies tailored explicitly toward that niche audience, these smaller businesses can still make an impact on their target market.
Adapting to Trends and Technologies
Staying connected with the newest trends and technologies is a must for small business owners to remain competitive. This especially applies to digital marketing, as its dynamics are continuously changing. As such, small businesses must stay ahead of their competitors by understanding the changing landscape and adapting quickly.
What Is a Business Marketing Strategy?
Crafting a business marketing strategy is essential for any small business to reach its desired customer base, create leads and convert them into paying customers. To accomplish this task, many tactics are used, such as advertising campaigns, promotional initiatives, public relations activities, and connecting with prospective clients. All of these practices must be employed in an integrated manner in order to maximize the effectiveness of your strategy.
Aspiring entrepreneurs must carefully consider their target market, budget limitations, and resources accessible to them and competitors before devising a marketing strategy. Moreover, they need to identify the optimum channels for reaching customers and select tactics that will ultimately enable them to achieve their desired objectives.
Identify Your Target Audience
Identify who your target audience is. Identify who your target audience is. You must recognize your target audience's needs and interests to develop a successful marketing strategy. To do this, research their demographic characteristics like age group, gender identity, income level, etc.
Put Together Buyer Personas
Once you have identified the target audience, it's time to put together buyer personas. Utilizing surveys, interviews, and focus groups can provide you with a better comprehension of your prospects' needs and interests. This way, you'll be able to gain an in-depth insight into who the potential customers for your business are.
Create a Business Website
Now it's time to create a website. Promoting and marketing products or services should be effortless. Remember to make sure your marketing strategy is user-friendly, exudes a professional design, and stays up-to-date with today's trends for optimal success!
Set Up Your Online Tools
Your digital tools must be up and running if you want to connect with potential customers online. This means setting up social media accounts, email addresses, web analytics software – the list goes on! Having these channels in place ensures that no opportunities go untapped when reaching out to target audiences. Make sure to optimize them for maximum visibility.
Start Blogging
Blogging can provide a strategic opportunity to engage and build connections with your target audience. Creating blog posts tailored to extensive keyword research could prove your field expertise while earning trust from potential leads or existing customers.
Choose External Channels
To engage with your target market, leverage various marketing channels such as email campaigns, social media means, and influencer partnerships. Thoroughly research the best solutions for your business to ensure you get maximum results from each one before you commit to implementing them. This way, you can drive leads organically without sacrificing time or money.
Start Paid Marketing
Paid advertising is often the most effective option to maximize your message's reach. Pay-per-click marketing (including Google Ads) is a great way to ensure you target the right people with your budget. With careful planning and strategic goal setting, PPC can be an invaluable tool for any advertiser!
Different Marketing Channels for Small Businesses
Small businesses have a variety of channels at their disposal. These include email, social media, PPC advertising, and more. To obtain the best results for your business, it is necessary to strategically decide which channels are most appropriate for connecting with potential customers and driving lead generation. Each channel can be applied in diverse ways to reach out to the desired demographic.
Email
Email remains one of the most effective and widely-used marketing channels for small businesses. Through email, you can craft attractive newsletters, exciting offers, and many other types of engaging content to capture your audience's attention. This will help you keep customers informed while also driving sales.
Email marketing starts by collecting email addresses. To build a strong customer base, providing an engaging opt-in process across your website, social media campaigns and other digital platforms is important. By doing so, you can ensure that customers understand the significance of signing up for promotional emails.

Image Courtesy: constantcontact.com
This marketing strategy has become increasingly popular, offering the most economical form of advertising. It also has a high return on investment (ROI). As a business owner, you'll experience immediate results with email marketing.
Social Media
If you're looking for a cost-effective way to reach potential customers, social media is your answer. Here's where you can craft content, interact with followers, and promote products or services – the possibilities are endless!
To ensure the success of your business, you must select the ideal social media channels for it. Start by studying which platforms your target audience prefers and utilizes the most. Afterward, develop a content strategy to build relationships with prospective customers.
Social media marketing is also an excellent way to build relationships with customers. Establishing trust and loyalty is key to helping you reap the greatest sales rewards in the future. You must keep your business strategy consistent for optimal results.
Paid Advertising
With pay-per-click (PPC) advertising, you can easily reach new customers with the power of targeted digital marketing. Taking advantage of this marketing method gives you more control over who sees your ads and when they view them, ultimately driving high-quality traffic to your website or store successfully.
Despite this, careful budgeting and audience targeting are essential to make sure your campaign yields maximum results. Keeping an eye on its progress is necessary to guarantee success.
One of the key advantages of paid advertisements is that you are essentially buying customers who have already been primed for conversion. So you can expect quick results with PPC platforms.
Search Engine Optimization (SEO)
Search engine optimization (SEO) is a convenient and effective way to market your small business in the digital world. It involves optimizing websites, content, keywords, and more to rank higher in search engine results pages (SERPs). This will help you gain more visibility and leads.
SEO is a long-term investment in marketing, so you'll have to wait some time until the results arrive. Take your time with keyword research and optimizing your website for optimal performance and visibility. Generating quality content that resonates with the right audience while building trust is critical if you want real success!
Investing in SEO is one of the most budget-friendly and fruitful means to reach target audiences. By taking advantage of this valuable strategy, you can generate more leads over time.
4 Strategic Tips For Effective Small Business Marketing
If the thought of marketing your small business feels overwhelming, don't worry. With a well-thought-out plan and flawless execution, you can make sure that your efforts bring maximum results. Here are four key strategies to ensure success in small business marketing:
1. Target Long Tail Keywords for Organic SEO
Aiming for long-tail keywords is essential, as SEO is a long-term investment. This will help you reach potential customers who are looking for specific solutions. You must also create high-quality content to attract the right target audience and earn their trust.
Getting traffics from Google and other search engines is the most profitable and cost-effective marketing method, but it takes time to make a persona and get results. So, a smart marketer will leverage the benefits of SEO with LSI keywords that are easy to rank.
2. Maintain a Good Mix of Paid Marketing and Organic SEO
Organic and paid marketing methods should go hand in hand for maximum effectiveness. Using both types of strategies together will help you reach a wider range of customers, earn more visibility, and build trust. This will also help you optimize your budget and get the most out of your efforts.
SEO will give your business stability in the longer term. At the same time, paid channels will help you generate quick results. Both small business marketing strategies can be effective on their own but more powerful when used together.
3. Leverage Retargeting on PPC Platforms
Retargeting is an effective way to reach potential customers who have already shown interest in your business. You can retarget ads to drive them back to your website or store and increase conversions. This will help you maximize the effectiveness of your paid campaigns and generate more leads.
Most newbie marketers forget to leverage retargeting with their paid campaigns. However, it's one of the most cost-effective and powerful digital marketing strategies to help you reach potential customers who have already visited your website.
4. Repeat the Process
The key to successful marketing is constantly evaluating and adjusting your strategy based on the results. You must track and analyze data to understand what's working and what isn't so you can make the necessary changes in your approach. This will help you optimize your campaigns and maximize your budget.
To get the best results, it's important to iterate and test different strategies until you find what works for your business. Keep experimenting and optimizing until you get the desired results.
Final Words
Marketing for small businesses can be intimidating, but with the right strategy and execution, you can get the most out of your efforts. We hope this guide has given you some useful tips to help you create an effective marketing strategy for your business.
SEO and paid strategies should work together to reach potential customers and generate leads. Leverage retargeting, track your results, and iterate the process until you get the desired outcomes. With this approach, you'll maximize your budget and increase conversions quickly!
Good luck!