Social media is clearly not a passing trend, with an incredible 4.26 billion people worldwide using it in 2021, and that number is set to top 6 billion by 2027! It's no wonder why so many of us turn to social media platforms for communication – from curiosity or boredom relief during our everyday lives.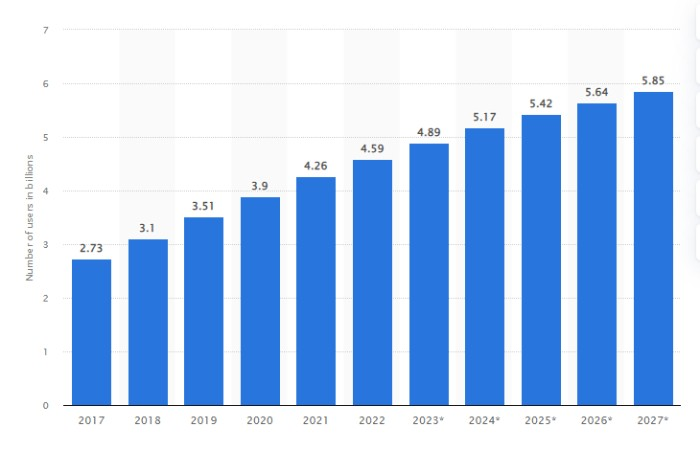 Image Courtesy: statista.com
Social media is a powerful tool for businesses to reach their target audience and establish brand awareness. Having a strong social media presence not only helps your business stand out but also helps you build relationships with the people who are interested in what you offer. However, having a large and engaged following is essential if you want to get the most out of your social media efforts.
This blog will help you learn how to grow more social media followers, no matter the size of your business. Here are 12 sure-to-fire social media marketing tips that'll help you increase your reach and boost engagement.
12 Pro Tips for Growing Social Media Followers
Here are the 12 pro tips that you should consider if you want to grow more social media followers:
1. Ensure Both Brand Voice and Content are Relevant and Engaging
Ensure your content is relevant, engaging, and consistent with your target audience's interests and your brand's values, tone of voice, and overall message. This will help you capture more attention and build loyalty among followers on social media channels.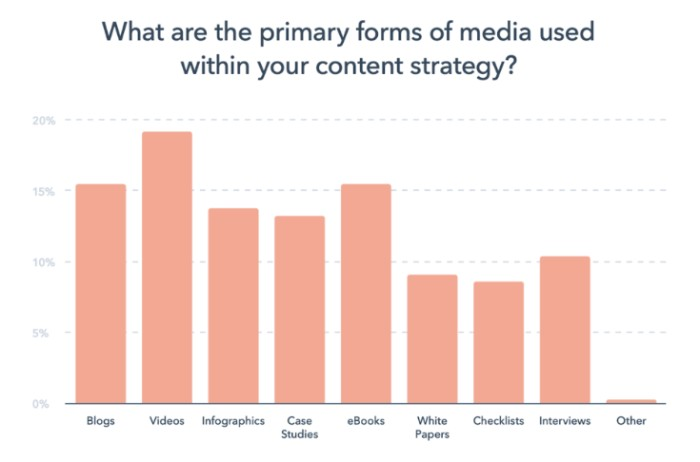 Image Courtesy: hubspot.com
Content doesn't just have to be text; think outside the box and utilize visual content such as graphics, videos, and photos. Keep it focused on your audience's needs – what do they want to see?
2. Create Relevant Contests and Back them Up with Meaningful Prizes
Creating contests is a great and cost-efficient way to connect with your audience. Get creative by running giveaways via Facebook and Instagram live streams, or even get friends to tag their buddies to win meaningful prizes! With the right approach, you can see online virality in no time.
This will motivate your social media audience to participate and share the post, leading to more reach and engagement. Your business can also benefit from increased brand awareness and recognition on a social media platform.
3. Don't Underestimate the Power of TikTok
TikTok saw incredible growth n recent years, with the app growing by 18.3% in 2021 and boasting over 78 million users! The sky's the limit for this burgeoning social media channel – what opportunities will it bring in 2023?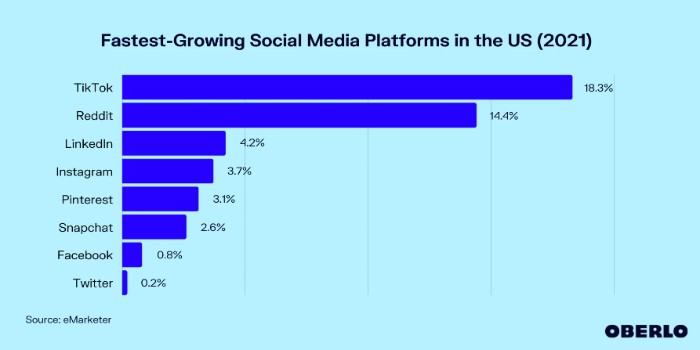 Image Courtesy: oberlo.com
TikTok is the fastest way to expand your following organically. Spice up relevant topics by linking them to another platform, like YouTube or Instagram – to help you quickly build a strong and engaged audience!
4. Go Live Regularly
Unleash your full potential and attract a like-minded audience by going live on social channels! Showcase what makes you unique to the world – because we all have something special that sets us apart. Make it an objective of yours to broadcast at least once per week, and watch yourself soar into a success!
The audience will feel connected when you go live, which in turn builds trust and a bond between you and your customers, leading to more loyal followers! Your business can also get real-time feedback from followers during the live stream, which is an invaluable tool for further development.
5. Include a Visual with Every Post
Visuals are key when it comes to social media. Whether that's with videos, GIFs, or images – including visuals helps break up the text and makes your content more engaging for viewers.
Image Courtesy: contentmarketinginstitute.com
Try adding visual elements such as infographics, quotes, charts, and diagrams to your social media posts – anything that catches the eye!
6. Share More Short-Form Videos
Short-form videos have become a popular way for businesses to share their message, as it's an effective and convenient way for users to get their point across quickly. Try creating short-form videos that are only a few minutes long but still informative and entertaining – this will help you stay top of mind and link with your target audience.
Businesses increasingly use social platforms like Instagram and TikTok, where short-form videos can reach a larger audience, build more trust, and generate leads.
7. Listen to and Respond to Your Online Community
Listening to your online community and responding promptly when needed is important. Whether in the form of comment replies, direct messages, or likes – this shows your audience that you're taking the time to listen and actively engage.
Make sure to be polite and professional when responding to viewers online, as it reflects well on your brand. Doing so will give your followers a sense of comfort, knowing that their concerns are being heard and addressed accordingly!
8. Speak at Industry Events or On Podcasts
Speaking at industry events or on podcasts is a great way to increase your influence. This will allow you to show off your knowledge and expertise while creating valuable connections with potential partners or customers. Plus, it will make your presence more visible in the market!
You can even record yourself speaking and share it on social media. This will give your followers a glimpse into who you really are and make them feel connected to you and your brand.
9. Encourage Tagging
Tagging is one of the best ways to grow your reach on social media – it increases visibility and helps build relationships! Ask viewers to tag their friends and family, related pages, or influencers when they comment on your posts. This will help you reach a wider audience and engage more people with your content!
Tagging will create authority in your audience's mind, and your business will gain more credibility in the market. It also helps to build relationships, as it creates an opportunity for other businesses and influencers to share your content with their followers!
10. Use Hashtags
Hashtags are a great way to help people find your posts quickly and easily, so include them in your social media marketing strategy!
Research & Use Popular Hashtags Relevant to Your Business
Researching and using popular hashtags relevant to your business is key to successful social media marketing. This will help to ensure that your posts are seen by the right people and increase your reach in a social network.
Participate in Relevant Trending Events & Topics
Participating in relevant trending events and topics is another great way to increase your reach on social media. Establishing these connections will help you stay on the minds of your target audience and provide them with engaging topics – giving you a competitive edge!
11. Use Humor to Engage Your Audience
Using humor is a fantastic way to attract and keep your audience engaged. Make sure you sprinkle witty jokes or puns into your posts and captions – making the content more enjoyable, relatable, and interesting for viewers!
Humor is an incredible tool to create a bond with your audience, so don't be scared to have some fun! Just make sure that the jokes are relevant for your intended viewers without any offensive or disrespectful elements.
12. Explore Paid Marketing
Paid marketing is an effective way to extend your reach and get more people to view your content. Utilizing digital advertising networks such as Google Ads or Facebook Ads, you can precisely target the audiences most likely interested in what you offer, granting tremendous visibility for all your posts!
You can also explore influencer marketing, which involves partnering with influential people in your industry to help promote your content. Influencers have their own dedicated following, so leveraging their reach can be an effective way to get your message out there!
5 Things to Avoid in Social Media
However, there are also some common pitfalls to avoid if you want to be successful in social media marketing. Here are five things to keep in mind:
1. Never Buy Followers
Buying followers on social media to boost your reach is tempting, but this isn't a good long-term social media strategy. Not only does it damage the credibility of your brand, but it also doesn't provide any real engagement from viewers.
Focus on creating quality content that resonates with your target audience and encourages organic growth. This will ensure you get more followers and engagement, benefiting your business long-term.
2. Don't Over Promote Your Products and Services
It's important to remember that social media is about connecting with people, not just selling products or services. If all you do is promote your offerings, it will become boring and people won't want to follow you.
Instead, focus on providing helpful and engaging content to your audience. This will keep them returning for more and make them more likely to recommend your business to their friends and family!
3. Don't Ignore Negative Feedback
It's important to be responsive regarding the negative feedback you receive on social media. This can be a great opportunity to show how you handle customer complaints and how dedicated you are to making things right.
So, when a customer leaves a negative comment, be sure to respond in a timely manner and do your best to rectify the situation. This will help build trust with your audience and showcase your commitment to excellent customer service!
4. Don't Over-Post
Over-posting is a common mistake that many businesses make on social media. Posting too often can be overwhelming and turn viewers off, so it's important to strike the right balance when it comes to your posts.
Aim for no more than one post per day, as this will give your audience time to digest and engage with the content. It's also essential to ensure that each post is high quality, so viewers don't get bored or overwhelmed.
5. Don't Use Automated Messages
One thing you should avoid is using automated messages on social media. This can come across as impersonal and inauthentic, which can damage your brand's reputation.
It's important to be intentional with how you communicate with your audience. So, make sure you craft unique and engaging messages that will resonate with viewers. This will ensure they have a positive experience interacting with your business!
Final Words
Gaining steady growth on social media can be daunting for even the most established businesses. It can be a daunting task to build an engaged fan base across numerous platforms. However, with diligent planning and effort, it is absolutely achievable. By strategically cultivating your community of followers, you will have the capacity to drive growth for your business.
Social media marketing is an immensely effective tool for businesses to reach out, engage with their customer base, and create more brand awareness. However, it's essential to remember that creating high-quality content and forging relationships with your audience will take effort and dedication over time in order to be truly successful.
With these tips, you can confidently build a successful social media presence that engages your target audience! To ensure success, avoid the common blunders outlined herein and create content that resonates with your intended demographic.
Good luck!