Its staggering user engagement underscores Instagram's meteoric rise as a social media titan. Boasting over 2 billion active users, the platform has seen a remarkable surge in the popularity of Instagram Stories, with 500 million people engaging daily, up from 400 million in 2018. This phenomenon isn't just a passing trend; it represents a shift in how people consume and interact with content. While nearly all users are engaged in Stories, 63.4% users regularly post them.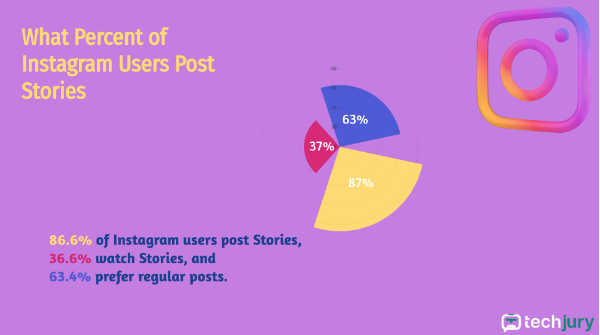 Image Courtesy: techjury.com
Whether you're showcasing a special moment or simply adding a touch of creativity, adding music to your Instagram Story is a fabulous way to express yourself. I remember the first time I added a tune to my Story; it was like magic. The right music can set the mood and make a simple Story unforgettable. In this complete guide, I'll walk you through the different methods to add music to your Instagram Story and share some tips from my personal experience.
Best Ways to Put Music on Your Instagram Story
Music is a universal language that resonates, adding depth and emotion to our experiences. In the ever-evolving world of social media, Instagram has created a unique space for individuals to share their moments, feelings, and creativity.
If you're like me, always on the lookout for ways to infuse your Stories with personality and flair, you'll appreciate the various options Instagram provides. In the following sections, I'll guide you through the best ways to add music to your Instagram Story, each method a delightful blend of simplicity and effectiveness. Let's make your Stories sing!
Add Music From Instagram Music Library
Adding music directly from Instagram is incredibly simple and fun. I often find myself using this method when I'm in a hurry to share something exciting. Just follow these steps:
Enriching your Instagram Story with music can elevate its appeal, and Instagram's music library is brimming with choices. You can add music to a Story by interacting with an Instagram music sticker icon and selecting your favorite music. Here's a detailed look at how to make this happen:
Launch the Instagram Application: Open the Instagram app on either your Android or iOS smartphone.
Initiate a New Story Creation: Navigate to the Story creation screen by swiping right on the main feed or tapping the "+" symbol on your profile picture in the upper-left corner.
Choose Your Visual Content: Select or capture the image or video you wish to include in your Story.
Find the Sticker Icon: Look for the square icon resembling a Post-It note being peeled at the top of the screen and tap it.
Select the Music Sticker: A pop-up will appear with various options. Tap on the 'Music' choice, and a search box will show up, allowing you to enter a song title or browse a list of available songs.
Pick Your Song: When the desired song appears, tap on it to select it. Use the play button to preview the song if you wish to hear it before making a final decision.
Adjust the Music Segment: A small bar at the bottom of your screen allows you to select the portion of the song you'd like to feature in your Story. This is where you can personalize the experience, choosing the part of the song that best fits your visual content.
Adjust the Duration: You can adjust the length of the music snippet by tapping the number icon. Options for the duration range from a brief 5 seconds to a lengthier 15 seconds, depending on your preference.
Finalize Your Story: Once you are satisfied, tap 'Done.' You can reposition the lyrics or song icon and resize it by pinching outward or inward. Once everything is set, you can post your Story as usual.
This step-by-step guide to adding music from the Instagram library simplifies what might initially seem like a complex process. The feature's intuitive design invites you to experiment with different tracks and snippets, providing endless possibilities for personalizing your Stories. Whether you want to set a certain mood or simply add a touch of flair, music can turn an ordinary Story into a memorable experience.
Add Music from Spotify App
Sometimes, the music you crave for your Instagram Story might not be available in Instagram's library. In those moments, Spotify, one of the leading music streaming platforms, comes to the rescue. It's filled with an extensive collection of tracks, likely housing that specific song you're looking for. Note that this method requires a Spotify Premium account, typically priced at $9.99 monthly for individual plans.
Here's a comprehensive guide to adding music from Spotify to your Instagram Story:
Launch Spotify: Start by opening the Spotify music streaming app on your device.
Find Your Song: Browse through Spotify to locate the song you wish to add to your Story. Click on it once you've found the perfect track.
Access More Options: Look for the ellipses symbol (three dots) located in the top right corner of the screen and click on it to unveil a drop-down menu with more options.
Choose to Share: Scroll down the options and select 'share' from the menu. This will open a new set of sharing possibilities.
Select Instagram Stories: You will find 'Instagram stories among the sharing options.' Click on it to initiate integrating the song with your Instagram Story.
Automatic Integration: Spotify will take over from here, automatically launching the Instagram app on your device. It will incorporate the chosen track into your Story and the cover art of the song or album, adding a visually appealing touch.
Understanding the Playback Process: It's important to note that the song won't play directly on Instagram when you use this method. Instead, after posting your Story, a link will appear in the top left corner labeled "Play on Spotify." Your followers must click on the album or song image to open Spotify and listen to the audio.
This method of integrating music from Spotify into your Instagram Story expands your musical choices and adds a layer of interactivity, encouraging your followers to engage with the content. While it may seem complex, following these steps makes the process simple and enjoyable. By linking these two popular platforms, you can create a richer, more immersive experience for your audience, reflecting your taste and creativity.
Add Music from SoundCloud
SoundCloud, another powerhouse in music streaming, offers yet another avenue to enhance your Instagram Stories with your favorite tunes. With an impressive library of independent artists and well-known musicians, SoundCloud could have just the unique track you're seeking. Here's how you can seamlessly integrate SoundCloud music into your Instagram Story:
Launch SoundCloud: Open the SoundCloud app on your device, whether it's iOS or Android.
Locate Your Desired Music: Browse the app to find the song, album, or even playlist that fits your Story. Once you've chosen, tap the ellipsis icon (three dots) for more options.
Select Stories Under the Instagram Logo: A pop-up menu with various sharing options will appear. Locate the 'Stories' option, easily identified beneath the Instagram logo, and tap it.
Automatic Integration with Instagram: SoundCloud will now take the initiative, launching Instagram and automatically embedding the cover art of your chosen song, album, or playlist into a fresh Instagram Story.
Post and Link to SoundCloud: After finalizing and posting your Story, a link labeled "Play on SoundCloud" will appear at the top. Viewers can click this link directly to the specific SoundCloud page.
This SoundCloud-to-Instagram method offers a sleek way to share your musical tastes and discoveries, including whole albums or playlists. While the music doesn't directly play in the Story, the link to SoundCloud encourages your followers to explore and engage with the content you love. Whether promoting your own music, supporting an indie artist, or simply sharing a favorite jam, this integration unites two powerful platforms, enabling a more dynamic and interactive storytelling experience on Instagram.
Add Music from Apple Music
With its extensive library of over 90 million songs, Apple Music is a fantastic source for enhancing your Instagram Stories with your favorite tracks. While it's impossible to share the music's audio within the Instagram app, linking the songs is simple. It provides an attractive visual element to your Story. Here's a step-by-step guide to sharing your musical passion with your followers through Apple Music:
Launch Apple Music: Start by opening the Apple Music app on your device. Explore its vast collection and find the song, album, or playlist you wish to music feature.
Find the Sharing Options: Locate the ellipses icon (three dots) in the top right corner of the song's page and tap on it to reveal a menu with various options.
Choose to Share: Among the available options, you'll find "Share." Select this to open another menu that displays the different apps you can share the music with.
Select Instagram for Sharing: Scroll down the list of apps until you come across Instagram. Tap on it to initiate importing the selected music into your Instagram Story.
Automatic Importing and Linking: The selected song or album's artwork will be automatically imported into a new Instagram Story. Along with the eye-catching visuals, a link will appear in the top left corner labeled "Play on Apple Music."
Viewing and Listening Experience: When your followers view your Story and click the link, it will direct them to the Apple Music app to listen to the full track. They might even discover a new favorite song, thanks to your recommendation!
Personalize and Post: Before posting, you can add captions, stickers, or other creative elements to make the Story more engaging and reflect your style. Then, post it as you would any other Story.
By integrating Apple Music with your Instagram Story, you create a bridge between two worlds – visual storytelling and auditory pleasure. While the music itself doesn't play within Instagram, the attractive album artwork and the link to Apple Music add a unique layer to your Story and invite your followers into your musical universe.
Add music from Shazam
Shazam, a popular music identification service, offers a unique way to enrich your Instagram Stories by sharing songs you've discovered. With Shazam's integration with Instagram, you can take your followers on a musical journey, whether a song playing in a coffee shop caught your ear or a track from your favorite artist. Here's a step-by-step guide to seamlessly add music to your Instagram Story from Shazam:
Start with Shazam: Open the Shazam app on Android or iOS.
Identify or Choose a Song: Use the "Tap to Shazam" feature to identify a new song or select a previously identified track from your Shazam list. Once the song is recognized, tap on it to view the full-screen page.
Share with Instagram: On the full-screen song page, locate the share icon (usually depicted as three connected dots) in the top-right corner. Tap it and select Instagram from the available sharing options.
Automatic Integration: Shazam will take the lead, launching Instagram and automatically embedding the cover art of the identified song into a fresh Instagram Story. It's a smooth transition that requires no additional steps on your part.
Add Your Personal Touch: Before posting, add text, emojis, or other Instagram Story features to personalize your post.
Post and Link to Shazam: Once you're satisfied, post your Story. A link labeled "More on Shazam" will appear at the top of your Story. Anyone viewing it can click this link to be directed to that specific song on Shazam.
Encourage Discovery: You invite your followers to explore new music or reminisce over classic tunes by sharing the song. The link ensures they can quickly access the track on Shazam, perhaps sparking a conversation or a shared musical experience.
Shazam's Instagram integration reflects the interconnectedness of our digital lives, bridging the gap between music discovery and social sharing. This feature offers a compelling way to share your musical findings with your community, providing a visual and a potential auditory experience, leading followers to explore, enjoy, and perhaps Shazam songs themselves.
Putting Song Lyrics on Your Instagram Story
Song lyrics can speak to our souls, evoke memories, and express feelings in ways that mere words often can't. Instagram recognizes this and offers a feature that allows you to add lyrics to the songs in your Stories. By doing so, you turn a simple Story into a mini music video, inviting your followers to sing along or immerse themselves in the message of the song. Here's how to do it:
Begin with Instagram: Open the Instagram app on your device.
Create a New Story: Tap the plus sign on your profile picture in the top left corner of your home screen to initiate a new Story.
Choose Visual Content: Select or capture the photo or video you want to be the background of your Story. This visual content sets the tone for the song lyrics.
Add Music through the Music Sticker: In the Story editing screen, tap the sticker icon (usually a square smiley face) and select "Music Sticker." This opens the Instagram music catalog.
Find Your Song: Search for the specific song you want to feature by typing in the title or scrolling through the options.
Select and Customize: Upon choosing the song, tap the album artwork that appears. Now, you'll see the option to add lyrics in various fonts and styles. Not only can you choose the font type, but you can also adjust the size and positioning of the lyrics within the Story. This allows for creativity in aligning the lyrics with the image or video.
Preview and Post: Before posting, preview the Story to ensure that the lyrics sync perfectly with the chosen segment of the song. Adjust as needed, and once satisfied, share your lyrical Story with your followers.
Engage Your Audience: Consider using the lyrics to engage with your audience, perhaps asking them about their interpretations or memories of the song.
Adding lyrics to your Instagram Story creates a richer and more engaging experience. Whether it's a line from a love song on Valentine's Day, an uplifting quote to inspire your followers, or a catchy chorus from the latest hit, showcasing lyrics allows you to connect on a deeper level.
Final Words
Adding music to your Instagram Stories can turn ordinary content into something extraordinary. I've personally found joy in enhancing my Stories with the right tunes. Whether through Instagram itself or third-party apps like Spotify, the process is user-friendly and rewarding. Experiment with different tracks, keep your audience in mind, and, most importantly, have fun! If I can do it, so can you. Happy story-making!