The question of how often one should post on social media is a common source of confusion. There's no one-size-fits-all answer, as social media platforms are always changing and evolving. What was effective in the past may not be relevant anymore, and best practices today may change in the future.
In today's fast-paced digital world, staying relevant on social media platforms is more critical than ever. Understanding each platform's optimal social media posting frequency can make all the difference in increasing engagement, reach, and brand visibility. This comprehensive blog post will cover the ideal posting frequency for different social media platforms in 2023 and tips for managing your posting schedule effectively.
Why is the Timing of Social Media Posts Essential?
In the ever-evolving world of social platforms, it's crucial to understand the significance of timing your posts effectively. The success of your social media strategy heavily relies on your ability to post quality content at the right time and frequency.
Maximize Engagement
Posting at the right time and frequency ensures as many users see your content as possible. Here's why timing is critical for maximizing engagement:
Higher Visibility
By posting when your audience is most active, you increase the chances of your content being seen, leading to more likes, comments, and shares.
Algorithm Advantages
Social media platforms use algorithms to show users high-quality content they're more likely to engage with. Posting at peak times increases the likelihood of your content being picked up by these algorithms.
User Experience
Users are more likely to engage with your content if it's fresh and relevant. Timing your posts to coincide with current events, trends, or news can significantly boost engagement and social media success.
Maintain Relevance
Consistent and well-timed social media posts are crucial for maintaining your brand's relevance in the digital space. Here's how timing helps you stay relevant:
Top-of-Mind Awareness
Posting frequently and consistently keeps your brand at the forefront of your audience's minds, making them more likely to think of you when they need your products or services.
Industry Authority
Timely posts that cover the latest trends, news feeds, and updates in your industry demonstrate your expertise and help establish your brand as an authority in your field.
Adaptive Content Strategy
Monitoring and adjusting your posting frequency based on user engagement and industry developments ensures your content strategy remains fresh and relevant.
Encourage Audience Growth
The right timing for social media posts can attract new followers and encourage existing ones to share your content. Here's how timing impacts audience growth:
Shareable Content
Users are likelier to share your content if it's timely, relevant, and engaging. Posting at optimal times increases the chances of sharing your content, exposing your brand to a broader audience.
Algorithm Exposure
As mentioned earlier, social media algorithms prioritize content with more engagement. By posting at peak times, you boost the chances of your content being seen by potential new followers.
Consistent Brand Image
A consistent posting schedule helps establish a professional image for your brand, attracting new followers and encouraging existing ones to stay engaged.
How Often You Should Post on Instagram
Aim for 3-5 posts per week on Instagram. Experts suggest publishing at least three posts weekly on Instagram, with various content types (carousels, reels, static posts, etc.) Incorporating diverse media formats becomes even more important if you post more than three times weekly.
Instagram Stories can be updated more often, with Instagram's Adam Mosseri recommending two posts daily. Consistent posting on Instagram boosts the likelihood of appearing in the Explore feed, getting featured on another account, or ranking in the top search results for frequently used keywords.
Regular posting also helps you determine what content resonates with your audience. Despite an algorithmically controlled timeline, post timing does influence Instagram engagement, as demonstrated by our experiments.
Important Instagram statistics to consider when posting:
Instagram boasts 1.39 billion global active users.
The most engaged brands publish 17 Stories each month.
On average, American users spend 30.1 minutes per day on Instagram.
Instagram ranks as the top platform for users to interact with brands.
Instagram users dedicate approximately 11.7 hours monthly to the platform.
How Often You Should Post on TikTok
For the third consecutive year, TikTok has secured its position as the world's most downloaded mobile application (672 Million). This popular short video platform continues to captivate audiences worldwide, maintaining its dominance in the global app market.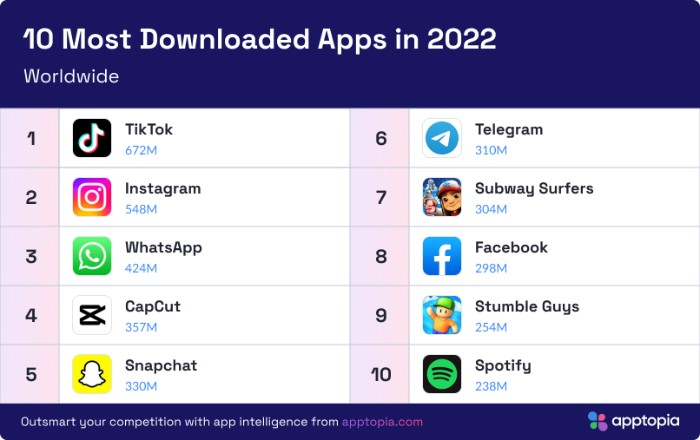 Image Courtesy: apptopia.com
Aim for 3-5 posts per week or as frequently as possible.TikTok suggests posting 1-4 times daily, which might not be feasible for everyone. For those just starting, 3-5 posts per week is an excellent beginning point.
TikTok is the place to experiment with content and discover what succeeds or fails. The TikTok algorithm can be challenging, but consistently posting increases your chances of reaching a larger audience and identifying successful content. Strive for 3-5 posts per week to maintain visibility among your followers.
Assess each video's views, engagement, and watch time to gauge its effectiveness. Incorporating hashtags in every post can help potential followers discover your content. Analyze each post's performance and adjust your strategy based on what appeals most to your audience.
Timing is also crucial on TikTok. Utilize the best times to post on TikTok to maximize user exposure.
Key TikTok statistics to remember when posting:
TikTok was the most downloaded app in 2022, amassing 672 million downloads.
TikTok has over 1 billion, monthly active users.
TikTok is more popular among Gen Z users than Instagram.
TikTok ranks as the top app for consumer spending.
Discover the latest TikTok statistics and learn more about TikTok for business here.
How Often You Should Post on Facebook
Post 1-2 times daily on Facebook. Organic reach has declined across all platforms, with Facebook being hit the hardest. The average Facebook page post engagement rate is around 0.07%, and it's not expected to improve significantly soon.
Experts suggest posting 1-2 times per day on Facebook to maintain visibility among your audience without overwhelming their news feed. Posting daily will grow followers 4x faster than posting less than once a week. It's logical: increased visibility. Creating a social media calendar for the organization helps maintain a steady flow of content.
Essential Facebook statistics to remember when posting:
Facebook is the world's third most visited website.
67% of Facebook's monthly users are active daily.
The average user spends 30.1 minutes per day on Facebook.
The average Facebook Page posts 1.68 times daily.
Discover more interesting figures in our summary of the latest Facebook statistics and Facebook demographics.
How Often You Should Post on Twitter
Aim for 2-3 posts per day on Twitter. Twitter is a fast-paced, news-focused platform where tweets have a brief lifespan. Consequently, you'll need to post more frequently than on other channels. This is probably the only channel where quantity over quality matters.
The more you post, the higher the likelihood of appearing in the ever-expanding feed. Some power users post 50 or even 100 times a day. While we won't discourage you from doing so, you don't need to commit to a full-time tweeting job to maintain an active and engaged presence on Twitter.
Regardless of your posting frequency, it's best to adhere to the rule of thirds:
⅓ of tweets promote your business
⅓ Share personal stories
⅓ offer informative insights from experts or influencers
Remember that engaging with your audience and community partners also plays a significant role in posting frequency.
Essential Twitter statistics to remember when posting:
The average user spends 5.1 hours a month on Twitter.
One-fifth of Twitter users under 30 visit the site too often to track.
16% of internet users aged 16-64 use Twitter for brand research.
People are expected to spend at least 6 minutes on Twitter daily in 2023.
Check out our comprehensive list of updated Twitter statistics (and browse our guide to Twitter demographics while you're at it!)
How Often You Should Post on LinkedIn
Aim for 1-2 posts per day on LinkedIn. According to LinkedIn, companies that post weekly experience a 2x increase in content engagement. They recommend posting at least once daily, even on weekends. These recommendations are based on their official documentation, so it's hard to dispute! Remember that LinkedIn content can have a long life in user feeds.
When someone interacts with your post, it may appear in their connections' news feeds. Users can also filter their feed by "top" and "recent" content, potentially extending the lifespan of your posts if they become popular. On LinkedIn, quality trumps quantity. It's essential to create captivating, timely, and relevant content. Soon, LinkedIn will introduce feed filters for topics such as "video-specific content."
Key LinkedIn statistics to consider when posting:
LinkedIn has 875 million members.
Over 77% of LinkedIn users are from outside the US.
52 million people use LinkedIn to search for jobs each week.
16.2% of American users log into LinkedIn daily.
How Often You Should Post on Pinterest
Aim for at least one post per week on Pinterest.
Pinterest states, "Quality and relevance matter more than frequency on Pinterest. While you can determine your best schedule, posting every week is a good rule of thumb." Contrary to platforms like Instagram and TikTok, the goal of Pinterest is not to go viral. Pinterest content has a long-lasting impact. A single post can be viewed and shared weeks or months after publication. That's why generating highly engaging and relevant content is more critical than achieving virality.
To optimize your posts, adhere to creative best practices such as:
Using eye-catching visuals
Targeting keywords in your captions
Applying hashtags where suitable
Crafting content tailored to your audience's needs
Social media managers might want to post multiple times each week, depending on your objectives. The frequency of your posts will depend on the content type and your audience size. Pin stats are valuable for reviewing Pin performance and understanding how your audience interacts with specific content types.
Essential Pinterest statistics to consider when posting:
Pinterest has 445 million monthly active users.
Pinterest's monthly global user figures grew by 5% in 2022.
Gen Z and men are Pinterest's fastest-growing audience.
75% of weekly Pinterest users claim to be always shopping.
Review the latest Pinterest statistics for business and Pinterest demographics to inform your Pinning strategy.
How Often Should You Post on Google My Business
Update your Google My Business listing with new posts 1-2 times weekly to keep your audience informed and improve local search visibility. Aim for at least one post per week on Google My Business.
Google My Business posts might not be your first thought when considering social media for business. However, this platform can improve your local SEO and enhance customer engagement. Previously, Google My Business posts expired after seven days.
In 2021, Google altered this feature, now displaying the last ten published posts. Google states that posts are archived after six months unless specified otherwise. Posts on Google My Business should be highly relevant to the present moment.
Typically, your audience is searching for immediate offers or events. Consequently, your posts should emphasize current promotions or happenings.
The optimal posting frequency depends on the post type, but generally, it's advised to post at least once weekly. You can also vary your posting times and days based on your target audience's social media presence.
Current offers, images of your business location, and new product announcements often perform well on this platform. Creating a content calendar also helps.
Key Google My Business statistics to consider when posting:
Google is the most visited website globally, with over 80 billion visits.
Businesses with complete Google My Business profiles are perceived as 2.7x more reputable.
Customers are 70% more likely to visit and 50% more likely to consider a purchase if your business has a complete Google My Business profile.
49% of GMB businesses receive more than 1,000 Views on Searches monthly.
Discover how to attract more customers with Google My Business and how to craft excellent Google My Business posts today.
How to Know the Best Posting Frequency for Social Media Accounts
The ideal posting frequency varies depending on your industry, audience, and content strategy. To determine the best frequency for your brand, consider the following:
Analyze your competitors: Observe how often they post and their engagement levels.
Test different frequencies: Experiment with posting more or less frequently to see what works best for your audience.
Monitor engagement metrics: Track likes, comments, shares, and other metrics to gauge the effectiveness of your posting strategy.
How to Schedule Using a Social Media Management Tool
Scheduling tools like Buffer, Hootsuite, and Later can help you manage and plan your social media content. These tools allow you to:
Schedule posts for multiple platforms from a single dashboard.
Save time by automating the posting process.
Analyze performance data to optimize your posting strategy.
Final Words
Posting frequency plays a crucial role in maximizing engagement, maintaining relevance, and growing your audience on social media. You can build a successful social media strategy by understanding the optimal posting frequency for each platform and utilizing scheduling tools.
Monitor and analyze the performance of your posts to determine their effectiveness and optimize your posting frequency accordingly. Now that you know how often to post on social media, it's time to create content!
Good luck!