It's no secret that social media stories have taken the digital world by storm. Ever since their inception, the creation and viewing of Stories have skyrocketed, with more than 1 billion Stories being shared daily across various apps in the Facebook network.
The staggering numbers are a testament to their popularity and the unique way they have reshaped how we communicate online. Let's delve into this fascinating phenomenon and discover how to leverage it to your advantage!
Facebook Stories is an excellent tool for businesses to leverage in 2023 and beyond. The feature allows you to create short-lived, eye-catching content easily viewed by your audience members.
This content can be anything from a simple product announcement to an interactive quiz or even a Facebook story video advertisement. It's also incredibly easy to test out different types of stories to find out what resonates most with your target audience.
What are Facebook Stories?
Facebook Stories is a feature that allows Facebook users to share photos, videos, and animations that disappear after 24 hours. Think of them as your digital photo album or daily journal that lets you share moments from your day without clogging up your Facebook news feed. They are a great way to engage with your followers, promote your products or services, and even drive customer loyalty.
Facebook Stories Size
The optimal size for a Facebook Story is 1080 x 1920 pixels, a 9:16 ratio. It's the same size as your phone screen in portrait mode, meaning your Story will take up the whole screen – perfect for grabbing attention!
Facebook Stories Length
When it comes to length, video stories can be up to 20 seconds long, while photos will display for five seconds. If your video is longer, don't worry, Facebook will automatically split it into multiple 20-second Stories.
Where Can You View Facebook Stories?
You can view stories at the top of your newsfeed on the Facebook app or the right side of your newsfeed when using Facebook on a computer. They're hard to miss!
How Can You Use Facebook Stories for Your Business?
As businesses, it's essential to keep up with changing digital trends. Facebook Stories has become an integral part of how people consume content. It provides an opportunity for businesses to reach their audience in a personal, interactive, and fun way through their Facebook page.
Facebook Stories can be used for a variety of purposes. Here are some ideas:
• Promote deals or discounts
• Showcase upcoming events or products
• Celebrate milestones (e.g., launch a new product or website)
• Showcase customer stories and reviews
• Share behind-the-scenes content
Creating engaging, creative, and timely Stories for your followers can strengthen your relationship with them while driving more sales. Plus, they're easy to make and share – what's not to love?
The Power of Facebook for Businesses
Since Facebook Stories launched in 2017, the platform has been a powerful tool for businesses. It allows companies to better connect with their customers and build relationships through meaningful stories. Stories tell your brand's story effectively, giving people insight into what you do and how you help them.
The Rise of the Stories Format
First introduced by Snapchat and quickly adopted by Instagram, Stories has gradually taken the social media world by storm. By combining short-lived content, authentic behind-the-scenes insights, and interactive elements, Stories offer an engaging way for brands to connect with audiences on a more personal level.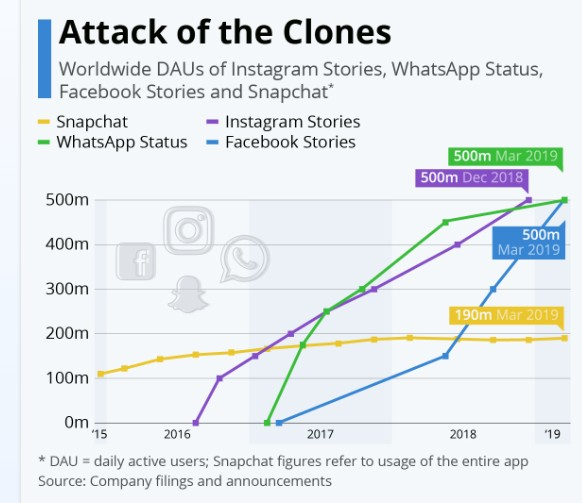 Image Courtesy: Statista.com
As per the latest data, over 500 million users interact with Stories across Facebook's family of apps daily. This huge user base allows businesses to build brand awareness, connect with their audiences in real time, and drive higher user engagement. The temporary nature of Stories prompts users to regularly check back for fresh content, keeping your brand consistently top-of-mind.
Facebook Stories is Replacing the News Feed
The Facebook algorithm has always been a mystery. However, one thing is certain: Facebook Stories are steadily gaining prominence over the traditional News Feed. Given the rise in mobile usage and users' preference for visual content, Stories provide an immersive full-screen experience that has captured the attention of Facebook's massive user base.
Moreover, the placement of Stories at the top of the Facebook mobile app ensures they're the first thing users see when they open it. This strategic positioning and the urgency created by the 24-hour time limit make Facebook Stories a potent tool for businesses to engage their followers, reach new audiences, and deliver timely content.
The Power of Facebook Stories for Marketers
Facebook Stories is a powerful tool for engagement and a lucrative avenue for marketers. The real-time, immersive nature of Stories allows businesses to showcase their products or services in action, share customer testimonials, and offer an inside look into their operations.
Marketers can use various interactive elements like polls, Q&As, and swipe-up links to drive actions and gather valuable audience insights. Facebook Stories also offers comprehensive analytics, allowing marketers to track view counts, reply counts, and exit rates to gauge the performance of their Stories and optimize their content strategy accordingly. Harnessing the power of Facebook Stories can ultimately help businesses boost conversions, increase brand visibility, and foster a more personal connection with their audience.
How to Create Story Content
Creating engaging content for your Facebook Story is a four-step process.
Step 1. Choose the type of Facebook story content you want to create
You can create a photo story, a video story, or a text story. Consider your goal, your audience, and the nature of the content you're sharing to choose the best format. Remember, if your video is longer than 20 seconds, Facebook will automatically split it into separate stories.
Step 2. Get creative with your content
This is your chance to let your brand's personality shine. Use filters, effects, stickers,
and text to add flair to your Story. Experiment with different styles to see what resonates most with your audience.
Step 3. Add custom links and buttons
Facebook Stories allows you to add links and call-to-action buttons to your stories. This is a powerful feature for businesses. You can direct viewers to your website, a new product, or a blog post – endless possibilities!
Step 4. Share your Story
Once you're happy with your Story, click 'Share to Story'. And just like that, your followers can enjoy your creative content.
6 Ways to Customize Your Facebook Stories: Unleashing Your Creativity
We're living in an era where social media storytelling is thriving. With Facebook Stories, you have a unique platform to express your creativity and engage with your audience.
Add Effects and Animations
Facebook Stories offers a variety of effects and animations that can add a touch of magic to your posts. To add effects, simply select the magic wand icon at the bottom left of your screen after taking a photo or video. From there, you can choose from an array of effects, such as face filters, backgrounds, and animations. You can preview each effect by simply tapping on it. Once you've found the perfect one, tap "Done" and your story is ready!
Get Creative with 3D Drawing
3D Drawing is another exciting feature offered by Facebook Stories. It allows you to add augmented reality (AR) doodles that appear in 3D space within your photo or video. After capturing your story, select the squiggle icon to access the drawing tool, and pick the 3D option at the top. Draw whatever you want on the screen, and watch your flat 2D drawings come alive in 3D space!
Add Stickers and Emojis
Stickers and emojis are a fun way to express your mood, add context, or add a bit of personality to your stories. After capturing your story, tap the sticker icon at the top of the screen. From here, you can choose from a wide array of stickers, emojis, and GIFs. Simply tap on the sticker or emoji you want, and drag it to wherever you want it on your photo or video.
Add Text to Your Story
Adding text to your Facebook Stories can provide context, ask questions, or add a call to action. After you've captured your photo or video, tap the "Aa" icon at the top of your screen. Type your desired text, and then tap "Done." You can also customize your text by changing the font and color or adding a background color to make it pop.
Use Facebook's Music Feature
Music can set the mood for your Facebook story or be used to narrate what's happening in the video or photo. To add music to your Facebook story, tap the sticker icon after capturing your story, and then select the music sticker. You can search for a specific song or browse by mood, genre, or what's popular. Once you've selected a song, you can choose the specific part of the song you want to play during your story.
Use the Drawing Tool
The drawing tool allows you to add hand-drawn artwork to your story. After capturing your story, select the squiggle icon to open up the drawing tool. You can select the color and type of brush you want to use. Whether a simple underline, a squiggle, or an elaborate masterpiece, the drawing tool can make your story uniquely yours.
Best Practices on Facebook Stories
Facebook Stories have emerged as a powerful tool for businesses to engage with their audience more personally and directly. However, leveraging them effectively requires understanding some best practices. Let's delve into those!
1. Create exciting, time-sensitive content
The ephemeral nature of Facebook Stories, lasting for just 24 hours, makes them an excellent channel for sharing time-sensitive content. This could be anything from a sneak peek of an upcoming product, a behind-the-scenes tour, or a special offer valid for a limited time.
With this format, you can create a sense of urgency and exclusivity that encourages immediate action from viewers. Keep in mind, though, that quality should never be compromised. The content must be interesting, relevant, and valuable enough to catch your audience's attention and keep them returning for more.
2. Make it interactive and actionable
Facebook Stories is not just about broadcasting content; it's about fostering interaction and engagement. Use interactive features like polls, Q&As, or reaction sliders to make your Stories more engaging.
This encourages viewers to become active participants rather than passive consumers of your content. It's also an excellent way to gather feedback, understand your audience's preferences, or simply entertain them. Always include a clear call-to-action, guiding viewers on what to do next, whether visiting your website, checking out a product, or leaving a comment.
3. Share third-party content in your stories
Sharing third-party content can be a great way to provide value to your audience, build relationships with other businesses or influencers, and diversify your content.
Consider sharing user-generated content, like a customer's photo of your product or a glowing review. This not only adds social proof to your brand but also makes your customers feel valued and appreciated. Sharing relevant posts from other businesses or influencers can also position your brand as a helpful resource and foster a sense of community.
4. Track performance
Finally, always keep an eye on your performance metrics. Facebook offers a wealth of insights, including your Stories' number of views, reach, replies, and exit rates.
By tracking these metrics, you can better understand what type of content resonates with your audience and what doesn't. Use these insights to fine-tune your Facebook Stories strategy, experiment with different types of content, and continuously improve your Stories over time.
5. Consistency is key
Creating a Facebook Story is not a one-and-done event. Maintaining a consistent presence is crucial to keeping your audience engaged and returning for more.
Develop a regular posting schedule that suits your audience's preferences and your team's capabilities. Consistency doesn't mean you have to post every day – it's more about setting a frequency you can maintain in the long term. Remember, quality over quantity always reigns supreme.
Facebook Stories: FAQs
Can you see who viewed your Facebook Stories?
Yes, absolutely! When you post a story on Facebook, you can see who viewed it. Just open your story and swipe up on the screen. You'll see the number and the names of the people who have seen your story. Keep in mind, this information is available only to you and disappears once the story is gone.
Where are Facebook Stories?
If you're using a mobile device, Facebook Stories appear at the top of your News Feed on the Facebook app or at the top of your Messenger app. On the desktop, they're displayed on the right side of the screen. You can also view someone's Facebook Story by tapping on their profile picture if it has a colored ring around it, which indicates they have a new Story posted.
Do Facebook Stories disappear after viewing?
No, Facebook Stories do not disappear after viewing. They are available for 24 hours after posting. Within that 24-hour window, you and your friends can view and revisit your story as often as you wish. After 24 hours, the story will automatically disappear from your profile and News Feed but will be saved in your private Story Archive.
How do Facebook Stories work?
Facebook Stories are short photo or video updates that can be customized and shared with friends. They can contain multiple photos or videos to create a slideshow. Stories aren't shared on your profile or the News Feed unless you post them there too. You can also choose who can see your story by adjusting your privacy settings. As mentioned earlier, Facebook Stories last for 24 hours before they disappear.
Final Words
Facebook Stories can add an exciting element to your social media marketing strategy. They offer a fun way to reach your audience more personally and directly. Remember the best practices discussed above as you create and share your stories, track their performance, and adjust your strategy accordingly. And most importantly, don't forget to have fun! With the right approach, your stories can be an engaging way to share your unique story and create connections with your audience. Good luck!